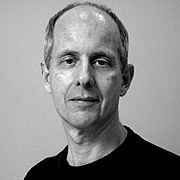 Prana (a Sanskrit word meaning: breath, vital energy, life force) is the eight voice singing group headed by Baird Hersey. The octet emits what is referred to as the "Higher Voice", an enigmatic overtone produced when the mouth and throat are shaped into a resonating chamber for the harmonics of the normal voice. Prana produces deep and calming meditations with only Tibetan cymbals, reverberation and voices. The music is a shared search between audience and performers and fuses breath, listening, space and sound. The album Waking the Cobra is used widely throughout the yoga and wholistic health community.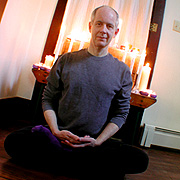 Baird Hersey is probably best know as a composer and guitarist. In the '70s and '80s he wrote for and played with his big band The Year of The Ear. The group's performances and recordings were highly regarded for their blend of hard driving grooves and avant-garde horn arrangements.
Hersey's diverse career has encompassed; commissions from the Harvard University, New Mexico Council for the Arts, The Brooklyn Bridge Centennial Sound and Light Spectacular, The HVP Symphony Orchestra, and performances throughout the US and Europe in such different setting as the Berlin Jazz Festival and MTV.
Hersey has composed extensively for television and is an National Endowment Composition Fellow. He is presently recording his tenth album which will be another solo overtone singing effort. As well as performing and teaching he has recently worked with overtone singing pioneer David Hykes's Harmonic Choir and studied Ashtanga Yoga with Pattabhi Jois.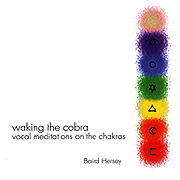 Waking the Cobra opens with a piece called "Atha", a Sanskrit word which means, "May the following have an auspicious beginning and successful end". The only sounds you hear are Hersey's solo voice and reverb. Next, is the title piece, "Waking the Cobra " which is in fact a collection of seven short pieces. They are meditations on the traditional shape, color, element and sound for each of the chakras. Hersey first recorded a multi-layered vocal background drone or moving harmony. Then, singing two pitches at once, Hersey recorded the high arcing melody parts.

This is followed by an extended piece called "The Conch Shell, The Wheel and the Sword". Call and response, rising harmonies, vocal textures, and overtone melodies, are used in this extended piece to investigate the symbolic meaning of the objects in the title.

The CD concludes with "Between Sthira and Sukha", which means between alert steadiness and relaxed comfort. This piece searches to balance those qualities by alternating low third voice overtone singing and high falsetto harmonies.

-- From the Baird Hersey Press Bio