David Borden founded MMPMC in 1969 with the generous support of Robert Moog. The group became the world's first synthesizer ensemble. "Mother Mallard turns out some of the best synthesizer music around." - New York Times. His 'The Continuing Story of Counterpoint,' a twelve-part cycle of pieces for synthesizers, acoustic instruments and voice has been called the 'Goldberg Variations of minimalism.' Borden's continuous development, as a composer & electronic pioneer, stretches over two decades of being a leader in the field of new music technology & electronic new music. His music is a mixture of classical forms, dense textures, strict counterpoint, and high energy electronics. Borden's work strikes a fine balance between serious music & space electronics. "David Borden's music has always stood alone with its logic of motion, elegance of line and form, and deft use of state of the art technology."-Audio. Borden's music is available on the Cuneiform, CRI, Lameduck and Arbiter labels. He is currently the Director of the Digital Music Program at Cornell University.

Blaise Bryski is a graduate of the University of Cincinnati College-Conservatory of Music and received his Master of Fine Arts degree from the California Institute of the Arts. He was a member for three years of the master class of Aube Tzerko. Blaise performed for many years as an accompanist for the UCLA Department of Music and was a professional pianist in Los Angeles in many styles including rock and jazz. He also performed in such varied venues as the Nakamichi Baroque Festival and the Green Umbrella New Music series. Blaise is finishing a doctorate in eighteenth-century performance practice at Cornell University. As a fortepianist, Bryski's credits include the Los Angeles Baroque Orchestra Chamber Music series, the New York Concert Singers, and the Aldeburgh Connection/CBC Radio.

David Yearsley was educated at Harvard and Stanford, where he received his Ph.D. in music history. Since winnning first prize at the 1994 Bruges Early Music Festival, David has enjoyed an active recital career throughout the United States and Europe as an organist, harpsichordist, and clavichordist. His scholarly work has appeared in the Journal of the American Musicological Society, Music & Letters, Early Music and the Journal of Seventeenth-Century Music; his book, Bach and the Meanings of Counterpoint is forthcoming from Cambridge University Press. His recording of the music of Delphin and Nicolaus Adam Strungk, played on the historic Arp Schnitger organ in Norden, Germany, was recently issued on Loft; The Great Contest: Bach, Scarlatti, Handel is just out from the same label this fall. Music critic for the Anderson Valley Advertiser, America's foremost country weekly, Yearsley is an assistant professor of music at Cornell University.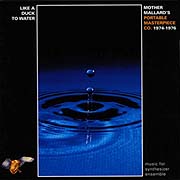 Like A Duck To Water by Mother Mallard's Portable Masterpiece Co. (Cuneiform Rune 147)

Based in Ithaca, NY, Mother Mallard's Portable Masterpiece Co. began doing live performances of music composed for synthesizers in 1969. Formed by composer and keyboardist David Borden "to present very new and startling work", it initially presented pieces by Robert Ashley and others but soon focused on original works. Working closely with Robert Moog, MMPMC became an all-synthesizer ensemble devoted to new music, most likely the world's first, and one of the very first performing synthesizer ensembles. Said Borden: "it seemed to me that the synthesizer could fit in with Bucky Fuller's idea of 'doing more with less': that three people with Moogs could make a lot more noise than three string players!"

Borden, a native of Brookline, MA, began working with Moog in 1967. A Fulbright scholar with degrees from Eastman School of Music and Harvard, Borden moved to Ithaca on a Ford Foundation Composer-in-Residence grant; Moog's company was in nearby Trumansburg. Moog taught Borden how to use his new invention, the voltage controlled electronic synthesizer, gave Borden round-the-clock access to his shop, and was supportive of MMPMC, lending it equipment and recommending it for concerts. Until late 1971, when Moog sold his company and moved to Buffalo, MMPMC used Moog's factory for rehearsals, premiering early pieces down the street at the Kosmos Restaurant.

MMPMC's performance of "Easter," at Cornell's Sage Chapel on Easter Sunday, 1970, marked the world premiere of this piece as well as the first-ever live performance using a MiniMoog – the band had Moog's prototype. At a subsequent concert at NYC's Trinity Church – the MiniMoog's NY premiere, months before its "official" debut by Dick Hyman – the band found it "hadn't been billed as Mother Mallard or David Borden but as THE MOOG SYNTHESIZER. This kind of billing would dominate our performances for the first few years, because no one else was performing with Moog Synthesizers except for Walter Carlos and Richard Teitelbaum." MMPMC's numerous live performances throughout the 1970s included concerts at Cornell University (Barnes Hall and the Johnson Museum of Art); various New York City venues (The Kitchen, Paula Cooper Gallery, Public Access Synthesizer Studio/PASS, the Dance Theater Workshop, etc), and colleges and universities in the northeast.

Mother Mallard's first Moog-based lineup, consisting of Borden, Steve Drews and Linda Fisher was featured on the band's LP, MMPMC, self-released on the Earthquack label in 1974. It featured compositions by both Borden and Drews, equally responsible for the band's early sound. As Borden recalls: "Steve found very exotic and beautiful sounds on the Moogs, and was a master performer on the ribbon controller. My stuff kept to more simple sounds with the emphasis on multi-metered contrapuntal figures that repeated at different lengths." When Cuneiform reissued this LP on CD, MMPMC 1970-73 [Rune 109] in 1999, critics world-wide claimed it was an essential work, praising both its technological and stylistic innovations. The New York Press described it as "eye-opening in terms of innovation, providing the missing links between several disjunctive musical styles." And Magnet remarked: "Most of the early attempts to make serious music with synthesizers came off like a child learning how to ride a bike; awkward and uncoordinated, generally resulting in a painful experience for all involved. In contrast, the pioneering efforts of MMPMC stand as a monument to the gimmick-less magnificence that can be achieved with a pure application of this technology".

Some key figures of the 70's recognized MMPMC's skill at the time. Borden recalls that: "director Billy Friedkin had heard some re-broadcasts of our WBAI Free Music Store concerts and was interested in having me compose music for his new horror film. We were all invited to the cast party of the EXORCIST at the end of the shooting, and Billy introduced us around to everyone as the people who were doing the soundtrack." Ultimately, Friedkin used Borden's music in only two scenes of The Exorcist (which was recently reissued),: when Father Merrin is looking up at the house, about to enter; and when Father Karras scurries down the stone stairs, followed by a montage leading to Regen's bedroom door"

Late in 1974, Linda Fisher left the band. Judy Borsher, a long-time associate of MMPMC who had helped start Earthquack, joined the band in 1975. In 1976, the line-up of Borsher, Borden and Drews recorded Like A Duck to Water. MMPMC's second studio recording released on Earthquack. The LP featured two pieces by Drews, "Oleo Strut" and "Waterwheel", and Borden's "C-A-G-E Part II", part of a series based on the chords C, A, G and E, composed for John Cage.

This CD reissue of Like A Duck To Water contains the entirety of MMPMC's second album as well as an additional 20' of previously unreleased contemporary material. It also contains a short Quicktime movie of the band performing live in 1976, an excerpt from Edin Velez's video "Mother Mallard's Portable Masterpiece Company", shot by Vito Brunetti and featuring Drews' "Waterwheel" as a soundtrack. This CD is an essential acquisition for those interested in MMPMC , David Borden's later works (especially the Continuing Story of Counterpoint series), minimalism, and early synthesizer music. This album provides a uniquely American slant on synthesizer music by a band whose pioneering contributions to the genre had been forgotten until now.

uncredited - http://www.rattaymusic.de
---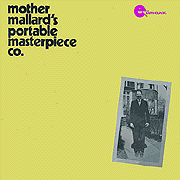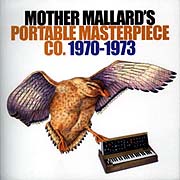 Mother Mallard's Portable Masterpiece Co. 1970-1973 (Cuneiform Rune 109)
This timely release charts the original works of Mother Mallard's Portable Masterpiece Company, who have a pretty fair claim to be the world's first all-synthesizer group. The initial lineup of David Borden, Linda Fisher and Steve Drews came together in late-60s rural New York state, to work through the possibilities offered by Robert Moog's first commercially available synthesizers (for completists: 2 MiniMoogs, 3 Custom Moog Modular Systems and an RMI Electric Piano). In doing so, their investigations formed an important stage of development in electronic music. And, unlike other early electronic contemporaries, very little here sounds dated. Indeed it's amazing how fresh much of this music sounds, "Ceres Motion" in particular could be played in open-minded clubs without raising many eyebrows, partly due to it's relatively funky synth bassline, but also due to the recent fascination with all things analogue. Compositionally, a strident minimalism is the dominant motif, and it comes as little surprise to find that Philip Glass is a close friend of (groupleader) Borden's. Many of the pieces here are reminiscent of Glass, featuring repetitive melodies layered over sustained synth washes. The 1972 track "Music" must be a pretty early example of sampling, featuring a 10-second burst of cloying 50s pop from which a half-second loop is stolen and repeated, which I guess forms a proto-breakbeat. With layered bursts of frenetic Moog, we have another strangely contemporary-sounding piece of music, its age only really discernible via the timbre of the electronics and the vaguely quaint melodic touch at work. While the up-tempo tracks are the most obviously earcatching, "Cloudscape For Peggy" and "Train" (both 1970) are actually the deepest ambient experiences - extremely lovely liquid drones. Over the course of the seventies, Mother Mallard faded from view somewhat, and Borden moved on to run digital music courses at Cornell. However, with the release of this fine retrospective and with a performing version of the group reforming this year, perhaps now Mother Mallard's Portable Masterpiece Co. will get the recognition they clearly deserved.
-
comments on this release:
David Beardsley: ....and analog tape "samples* and phonograph recordings had been used in music by John Cage (Imaginary Landscape #1, 1939), Stockhausen and others like Pierre Schaefer many many years before David Borden did it. Most writing on MMPMC focuses on the band's founder, David Borden, who went on to compose the 12-part 'The Continuing Story of Counterpoint' series and eventually became the director of Cornell University's digital music program. But the credits on 'Like a Duck to Water' show that another member of the trio, Steve Drews, penned more than half the compositions on the disc, and his work is just as enthralling and elaborate as Borden's.
For example, there's Drews' introspective and unearthly 'Downtown', sounding as if it had been recorded inside a cavern in the Arctic, with a symphony of water dripping off icicles producing the crystalline notes. His 'Theme From After The Fall' is completely modern. Although he only used a Fender Rhodes piano and Moog to create it, the piece has an understated, sullen jazz feel to it - it's a track that could fit neatly on Tortoise's later, Pro Tools-heavy releases.
There is no conspiracy afoot in keeping Steve Drews out of the MMPMC history; in the CD's liner notes Borden amply discusses Drews' approach to making music. What is ultimately the most revealing information to come out of Borden's notes is how the band members had an intimate, unspoken communication and understanding among them, using stopwatches, a primitive sequencer and intuition to time the intricate weaving of pitches and beats into these beguiling, icy works. What MMPMC lacked in technological sophistication by today's standards, it more than made up for in communal synergy; musical intelligence; and unreserved emotional expression.
Dan Hill - motion | sound noise music