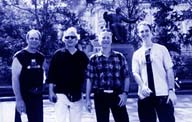 Oregon In Moscow in 2001 was nominated for 4 GRAMMYS® in the categories of Best Instrumental Composition for "Round Robin" (Paul McCandless, composer), "The Templars" (Ralph Towner, composer); Best Instrumental Arrangement for "Round Robin" (Paul McCandless, arranger); and Best Engineered Album, Non-Classical.

"At the core of an OREGON concert is a joyful embracing of adventure, a willingness by four virtuoso improvisers to expose their creative process to an audience. Rooted in jazz, but drawing from musical wellsprings all around the world, the quartet aspires to transcend its sources and create compelling, new music with every performance."

---Jeff McLaughlin, The Boston Globe
---
"The key to OREGON's success is their ability to meld their disparate tonal personalities into a consonant whole--even in the most malleable or playful of settings--the classical voicings of which never undermine their jazz foundations."
---Mikal Gilmore, Rolling Stone
---
"OREGON's adventurously searching urgency has always been about more than mere entertainment, though there's plenty of that in it, of the variety that challanges. Building upon European classical disciplines and American jazz traditions - transcending both - as well as many musics from the rest of the planet, their sound is characterized by an optimistic, forward-thinking strength. OREGON's continually growing style is never out of fashion, and feels at home wherever it is heard. Their music is... always in the present tense, with equally scenic vistas of past and future. Time falls away and their music ends too soon... may there always be more..."
---Patrick Hinley, Jazz Times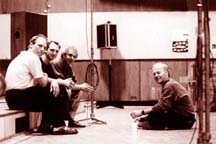 ---
Oregon appeared at the 19 March 2001 Gathering in Philadelphia. For their appearance at The Gathering, Oregon left the orchestra back in Russia, and instead filled the serene space of Saint Mary's Hamilton Village with the sounds of Classical guitar, Oboe and English horn, Contrabass and Percussion.