Please check back for this week's playlist
---
Ron Boots - Live on STAR'S END 19 March 2017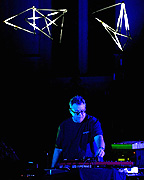 Ron Boots is among the most engaging Electronic Musicians to ever export music from The Netherlands. Since the late 1980s, his work has been rooted in the Berlin School, yet reaches far beyond the basic fundamentals of the genre. Combining elements of Contemporary Instrumental, film soundtracks and Spacemusic, Boots' music moves easily between the mainstream and the cosmic.
An avid concert performer, Ron Boots at last makes his solo state-side debut - in Philadelphia at The Gatherings Concert Series on Saturday 18 March 2017. Following this show, Boots will play a live in-studio radio concert on the 03.19.17 broadcast of STAR'S END. Please tune in for details.
For more about the upcoming Ron Boots performance in Philadelphia, please access: www.thegatherings.org

---
STAR'S END on MySpace - Facebook - Wordpress - Tumblr - Soundcloud
STAR'S END Ambient Radio has a presence on MySpace, Facebook and Wordpress which you are invited to visit. Here you will find some background on the radio show as well as photos, news about the weekly broadcasts, including album reviews and notes on upcoming live in-studio on-air radio concerts. Visitors to our MySpace webpage may listen to music from the STAR'S END 30th Anniversary Anthology CD. Maintained by STAR'S END listener and supporter Chuck Nixon these pages have a growing list of friends and fans from the worldwide listening community.
Access the STAR'S END on MySpace: myspace.com/starsendradio
Access STAR'S END on Facebook: facebook.com/starsendradio
Access STAR'S END on Wordpress: starsendradio.wordpress.com
Access STAR'S END on Tumblr: starsendradio.tumblr.com
Access STAR'S END on Soundcloud: soundcloud.com/starsend
---
STAR'S END Updates - via Email to you
Have updates emailed to you as a newsletter once a week by joining the STAR'S END Radio Group at Yahoo Groups. Whether it's a review of a new spacemusic release, an artist interview or news about an upcoming in-studio concert, receiving the newsletter is a convenient way to keep informed of the music featured on STAR'S END Ambient Radio each week.
Click on the provided link and follow the easy instructions for signing up. Once your registration has been confirmed, you will receive the STAR'S END Update every Thursday evening. This is not a discussion group, email addresses will not be made public. There is no fee for this service and you can unsubscribe at any time.
Thanks for signing up!
groups.yahoo.com/group/starsendradio
---
---
Previous Playlist | Next Playlist> | Playlist Directory | Update | Search | Home