SotL have been releasing albums since 1995, six of which are out on Kranky Records. Their most recent work was released in 2007. The double CD And Their Refinement of the Decline continues to integrate diverse sounds (including horns, strings, and piano) into their signature blend of droning guitars and quiet field recordings.

All Music Guide said of this recording, "The feeling of being washed over, being gently pulled under water to someplace where language no longer makes sense, feelings get all folded together and an overwhelming calm takes over...".

Pitchfork Media offers the CD similar praise, "It doesn't 'go' anywhere, really, and it's hard to say what it projects; the music could be crushingly sad, lightly melancholic, or even uplifting, depending on the state of mind of the hearer. It becomes a sound divorced from intention and its ambiguity is its strength".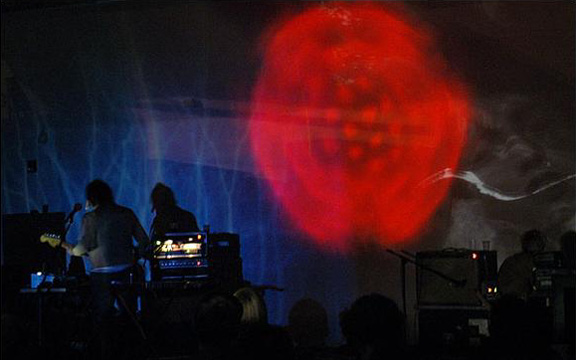 Beginning in mid-April 2008, Stars of the Lid will embark on a three-week concert tour of North America, their first since 2002. Adam Wiltzie and Brian McBride will be accompanied on stage by a string trio. Their long-time visual collaborator Luke Savisky will provide stunning projections composed of layered 16mm films.
Stars of the Lid will make their Philadelphia concert debut on Saturday 3 May 2008 as part of The Gatherings Concert Series. Guitarist Christopher Willits will open.
---
Related Links:
Artists