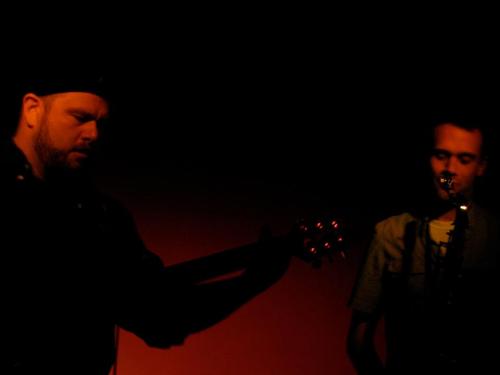 The Music of Matt Borghi & Michael Teager aims to create a deep and timbrally interesting listening experience while also bringing together an unique musical pairing and improvisational process. Saxophone and ambient music have never sounded like Borghi & Teager. They attribute their unrivaled realizations to their friendship, their approach to the work and their diverse musical interests.
While Borghi brings in spacious guitar textures to create a harmonic fabric, Teager lays out his saxophone playing with subtlety and nuance. With a background in classical and jazz saxophone, Teager brings a range of influences to the music. Borghi's pastoral guitar sounds owe more to their origins in the work of Claude Debussy or Ralph Vaughan-Williams than they do other contemporary ambient guitarists.
Concerts by Matt Borghi & Michael Teager are a musical experiment in somnolence as the duo continually realize gorgeous and languid soundworlds within which to drift. More like a series of improvisations, time feels slowed down by the production of the extended sonic meditations - which have wondrously arisen out of the interaction between the players, the tones their instruments emanate and a fragile ceremonial atmosphere. Each soundspace consists of guitar drones or loops establishing a foundation above which the saxophone soulfully plays - all enshrouded in a cavernous reverberation. Yet these minimal elements yield music with the ability to evoke complex moods within its audience. Their music has secret depths - which extend as far as the listener is willing to explore.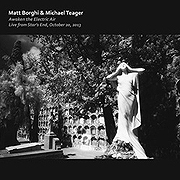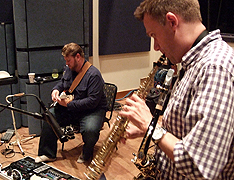 Following their Philadelphia debut at The Gatherings Concert Series Matt Borgi & Michael Teager performed a live to air set of new music on the 10.20.13 broadcast of STAR'S END. Please see photo below.
On 1 January 2014 Slobor Media released Awaken the Electric Air, an album featuring music from the Borghi & Teager STAR'S END live to air session of 20 October 2013.