Jeff Pearce creates uniquely smooth and beautiful ambient textures using processed and looped electric guitars. His second and third CDs, The Hidden Rift and Vestiges, respectively, established Pearce as the master of "ambient guitar" music. But between those two landmark releases, in the period from 1993-95, Jeff Pearce recorded another set of never-before-released tracks. Now, re-mastered by Mike Griffin for Hypnos, this material has the same smooth feel pioneered on The Hidden Rift, and gave a hint as to where Pearce would travel on Vestiges.
Early in 1998, Jeff Pearce released his third solo CD Vestiges, appeared on the Hypnos compilation The Other World, and the Lektronic compilation Soundscape Gallery 2 (note: also appears on Echoes Living Room Concerts v.2 [1996] and The Ambient Eclipse [1997]). His guitar work also appears on the 1998 Vidna Obmana release Crossing the Trail. Jeff also recently completed work on a full-length collaboration with Vidna Obmana to be entitled True Stories, which will be released in mid-1999.
One of the unique and truly noteworthy artists in today's ambient/space music scene, Jeff Pearce has produced yet another masterpiece of guitar atmospherics. Some of the most beautiful, smooth, slow-moving textures you will ever encounter, here on Daylight Slowly.
--David Hodgson, of Playing By Ear 14 January 1999
---

Jeff Pearce is a solo guitarist, but that tag doesn't quite cover it. He runs his instrument through transformative delays, loops, and other signal processing to emerge with a deeply layered, highly textured, often hauntingly melodic sound. Daylight Slowly consists of compositions he's recorded from 1993 through '95, but they are of a piece with his more recent work on the Vestiges and The Hidden Rift albums. Pearce's music can be seductively slow and elegiac. His arpeggio pieces, such as "Spirals," "Quiet And Clear," and "11/11," seem to unfold like a dark-hued flower, shimmering in the tremulous daylight of the artist's echoes. But Pearce is also a trawler of the drone zone, casting a slow-motion net of glissando sustains and overtones. Most of the works are shortform, but the album concludes with the 20-minute "Passage To Home," an ambient epic for the hardcore.
--BILLBOARD magazine Critics Choice 9 January 1999
---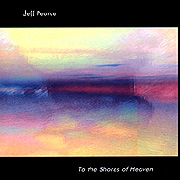 I have to wonder if any musical endeavor will ever succeed in captivating me as much as the forthcoming Jeff Pearce release To The Shores Of Heaven, has. I promise you, as lovely as all Jeff's previous releases have been, with "The Shores..." he has envisioned and created themes that have gone a step beyond anything he has ever produced before. Melancholic, ethereal, stunningly poignant; "The Shores..." transcends hearing, enshrouding all senses, creating feelings of sadness and joy, beauty and celestial ascension.... The music of Jeff Pearce shimmers like sunshine through rain.
Reviewed by Bill Beck
---