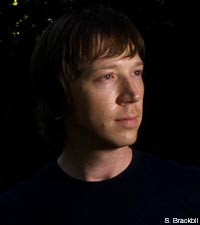 Synthesist Steve Moore is perhaps most well known as one half of the noted 70s-inspired, synth/prog duo Zombi. In addition to the several albums released by Zombi, Moore has a prolific and thriving solo career - releasing music that ranges from electronica/dance to trance music, and now Sequencer Spacemusic.

Light Echoes (2012) is Moore's debut on the Cuneiform label and is a 70 minute long electronic meditation. This album may seem like a continuation of the German 'cosmic music' which came into being in the 1970s, but we hear in Light Echoes today's esthetic and Moore's own affinities firmly in place. This is Moore's first purely Spacemusic release, and will be pleasing to fans of classics by Klaus Schulze, Tangerine Dream, Manuel Gottsching and Richard Pinhas.
Once an active touring musician with Zombi, Steve Moore is currently focusing on solo performances of his ever-deepening sequencer Spacemusic. His concert at The Gatherings will feature definitive live versions of pieces found on his album Light Echoes, as well as improvised works realized in the spontaneity of the moment.

Steve Moore made his Philadelphia concert debut on 13 April 2013 at 8:00PM as part of The Gatherings Concert Series.

Following The Gatherings Concert Series: Steve Moore was heard live on the 04.14.13 broadcast of STAR'S END Ambient Radio with an in-studio set of all new and original Spacemusic material.