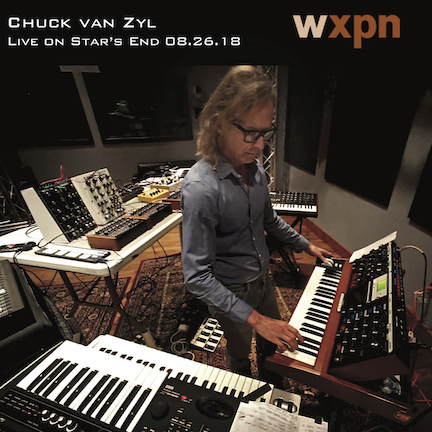 Special 2019 Fundraising Thank-You Gift
Produced by Public Radio Station WXPN, Chuck van Zyl: Live on Star's End 08.26.18 (63'36") is not a commercial release. It is available only as a "Thank-You" gift to those making a donation to WXPN/STAR'S END.
This album is a conventional silver CD featuring over 60 minutes of the Chuck van Zyl live electronic realizations made in the WXPN performance studio during a private Salon Concert (for Tony Masiello) and live-to-air broadcast of 25/26 August 2018. Its four parts each offer passages of improvised in-the-moment sequencer manipulations, amidst the ethereal yearning of synthesized harmonies and cresting lead lines. The listener is invited inside, to float away as the patterns and textures envelope them - tumbling in circles, spirals and pinwheels, beneath unfurling ribbons of creamy synth melodies and modulated, chirping effects.
Chuck van Zyl: Live on Star's End 08.26.18 may seem more like a spiritual expression than an exploration of a musical form. This work has mysterious power purely on a sonic level. But the miracle of this release is that every time we listen to it, our minds will hear something new - and will so find a different album. Absorbing the full tapestry of the Electronic/Berlin-School experience, and the ideals of live improvisation, we can easily imagine every concert outing serving as a mystic portal for this musician's own spiritual journey.
Whether channeled from the astral plane, or just the transformation of electricity into sound, Live on Star's End 08.26.18 is for those seeking a deeper examination of tone and mood. Anyone in love with Spacemusic and its very specific poetry will want to own this recording. While this musical form may have been established in the 1970s, Live on Star's End 08.26.18 feels made-today fresh. A ceaselessly inventive work, its history begins now.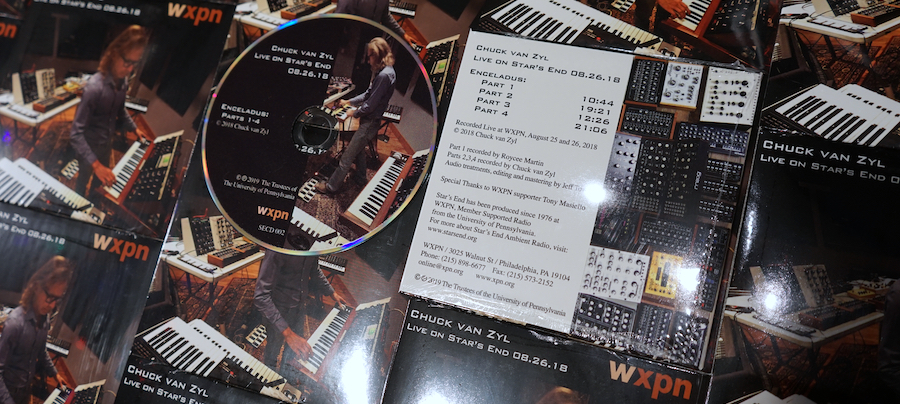 For more on Chuck van Zyl: Live on Star's End 08.26.18, please access the WXPN Online Donation Form
For more about Chuck van Zyl, please access: chuckvanzyl.weebly.com
For more about Chuck van Zyl, please access the STAR'S END Profile
For more about WXPN's 2019 Auction, please Click Here