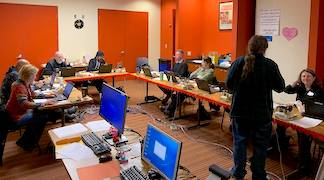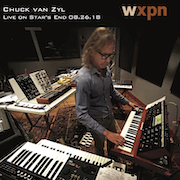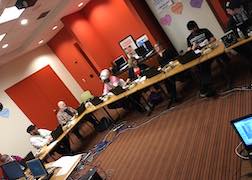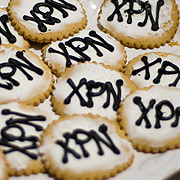 Guiding listeners from the safe place of what they know to an active awareness of what can be is the job of a good DJ. During his ongoing 40 year tenure as host of the weekly radio program STAR'S END, Chuck van Zyl has been commissioned with the task of leading an audience. These sonic encounters encourage deeper understanding of ourselves and of others. Bringing you to this place, a musical world beyond ordinary existence and experience, is the purpose of STAR'S END - an undertaking that deserves your support.
In Winter 2020 listeners to Public Radio Station WXPN were again asked to please phone in and pledge their financial support to STAR'S END. Public Radio exists through the support of its listeners, and periodic on-air fundraisers are the most sensible method for WXPN to meet its fiscal goals. On-air fund drives are also a good opportunity for listeners to make themselves known to the programs they frequent.
Throughout its many years of broadcast the most important person in the STAR'S END endeavor has been the listener. Giving to public radio was and still continues to be a meaningful gesture. During the broadcast of 23 February 2020 STAR'S END spent the entire night in fundraising effort, and counted on your help. Thanks for staying up, tuning in and (when you heard the number 1-800-565-WXPN) calling in, which led to another record breaking total - $9670 in donations (from +80 donors) in one night.
...and Thanks to those who, while making their call, took a moment to congratulate STAR'S END Host Chuck van Zyl as he marks the 40th anniversary of his first night behind the microphone at WXPN...
Sincere Thanks to everyone who called in with a donation and Thanks also to our phone room volunteers who stayed up all night taking your calls! Ken Anderson, Chaka Benson, Neil Cippon, Art Cohen, Emily Guthrie, Diane King, Shawn Kralicek, Chuck Nixon, Maria Roman-Gremmel, Ian Staer and Jeff Towne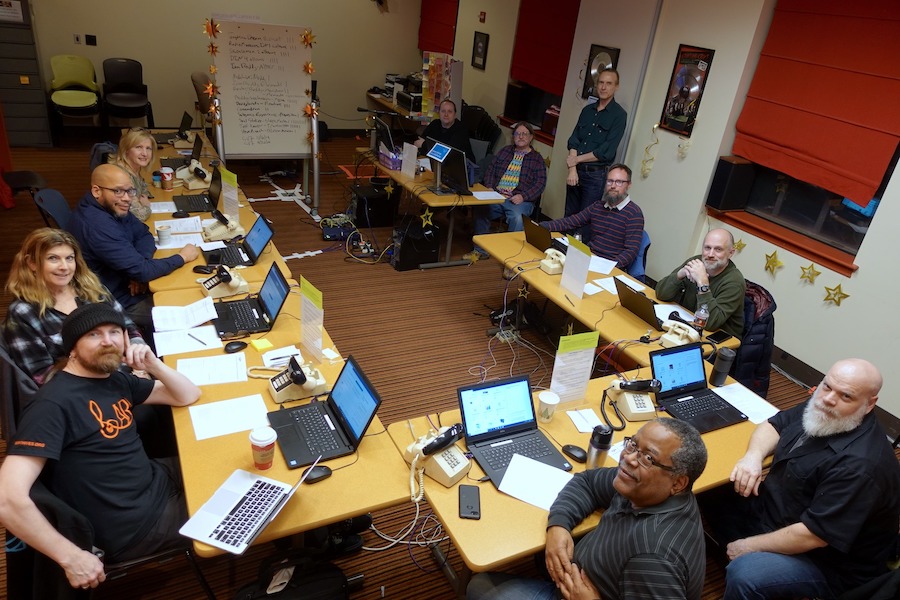 ---
Please Note: The 02.23.20 broadcast of STAR'S END offered Special Thank You Gifts available to those calling in with a donation made using a valid credit card. Many Thanks to all the artists and labels pitching in their resources to help STAR'S END with fundraising, and of course, Sincere Thanks to all the listeners who phoned in with a donation. Please see below for highlights from the list of Donor Thank-You Gifts

---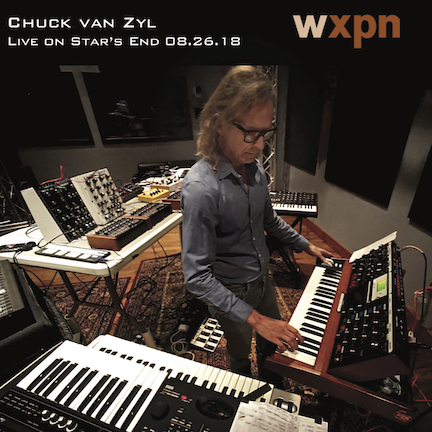 Special 2020 Fundraising Thank-You Gift
Produced by Public Radio Station WXPN, Chuck van Zyl: Live on Star's End 08.26.18 (63'36") is not a commercial release. It is available only as a "Thank-You" gift to those making a donation to WXPN/STAR'S END.
This album is a conventional silver CD featuring over 60 minutes of the Chuck van Zyl live electronic realizations made in the WXPN performance studio during a private Salon Concert (for Tony Masiello) and live-to-air broadcast of 25/26 August 2018. Its four parts each offer passages of improvised in-the-moment sequencer manipulations, amidst the ethereal yearning of synthesized harmonies and cresting lead lines. The listener is invited inside, to float away as the patterns and textures envelope them - tumbling in circles, spirals and pinwheels, beneath unfurling ribbons of creamy synth melodies and modulated, chirping effects.
Chuck van Zyl: Live on Star's End 08.26.18 may seem more like a spiritual expression than an exploration of a musical form. This work has mysterious power purely on a sonic level. But the miracle of this release is that every time we listen to it, our minds will hear something new - and will so find a different album. Absorbing the full tapestry of the Electronic/Berlin-School experience, and the ideals of live improvisation, we can easily imagine every concert outing serving as a mystic portal for this musician's own spiritual journey.
Whether channeled from the astral plane, or just the transformation of electricity into sound, Live on Star's End 08.26.18 is for those seeking a deeper examination of tone and mood. Anyone in love with Spacemusic and its very specific poetry will want to own this recording. While this musical form may have been established in the 1970s, Live on Star's End 08.26.18 feels made-yesterday fresh. A ceaselessly inventive work, its history begins now.
Listeners to the 02.23.20 broadcast of STAR'S END heard music from Live on Star's End 08.26.18 by Chuck van Zyl - the special Thank You Gift for contributors to WXPN's Winter 2020 Fundraiser
For more on Chuck van Zyl: Live on Star's End 08.26.18, please access the WXPN Online Donation Form
• Live on Star's End 082618 - single CD $72.00 one-time Credit Card Donation or $6/month
• Furnished by WXPN
For more about Chuck van Zyl, please access: chuckvanzyl.weebly.com
For more about Chuck van Zyl, please access the STAR'S END Profile